One of the things I love about blogging daily is that when we're on vacation, our travels and activities get documented. If I didn't have a commitment to write everyday, I know that wouldn't happen.
So today was our 1st full day of our family trip to Colorado.
We had a lazy morning. The kids played all morning. They played doctor and puppy (where Luke was lovingly named "Pepsi"). We cooked up breakfast for everyone. French toast and bacon for the kids (plus an entire cantaloupe that they finished off on their own). Spinach and cheese omelets for mom and dad. Plus lots of coffee.
We had a rough night. Addy crawled into our bed in the middle of the night (she hasn't been feeling well lately), and I found Luke asleep in the upstairs hallway underneath a lamp around the same time. Brian ended up sleeping with Luke, and Addy and I took over the king sized bed. But there was a lot of tossing and turning which equalled a lot of coffee this morning.
Shortly after breakfast Brian headed to the store to pick up a few more things we needed. I showered and got ready for the day while the kids played. (And they really played so well. It is a blessing and a joy to watch them play so well together).
I packed up everything we might need for a day on the town, and when Brian got home, we headed out. Before going into Breckenridge, he pulled of the side of the road beside this gorgeous lake that he and Addy had fished at for a while yesterday. There was a bald eagle there when they were fishing, and he wanted to see if it was still there.
And it was. So the big kids and I got out of the car and walked down to the water line. We literally walked right underneath this eagle. It was breathtaking and beautiful.
And the view was pretty spectacular too.
After our eagle watching, we headed into Breckenridge, found a delicious pizza place to grab some lunch, and then headed up the free gondola ride.
It was awesome and beautiful.
At the top of the gondola ride there were tons of fun family things to do like play miniature golf, jump in a giant bounce house, eat dippin' dots, or ride on a giant slide down the side of a mountain. Yes please.
Addy and daddy rode the ski lift up to the top of the slide 1st. (While Luke and I ate dippin' dots).
And then Luke I headed up. It was his first time on a real ski lift, and he was scared at first, but then started to love it. How could you not?
This pic was an accident, but I thought it was kind of cool.
On the way up, he decided that we needed to ride on the middle slide. So we did.
This was us pre-slide. (He hates pictures.)
And the view.
And here we are at the bottom.
He loved it, and so did I. At first, he was scared, but within 30 seconds, he was telling me to go faster. We will probably do it again. It was a blast.
After the slides, we were all pretty beat, so we headed home for naps. Of course, this one didn't want to nap, so he and I hung out.
We played another round of Disney's Scene it game (played round 1 last night). There was a
Taylor Swift concert at the top of the stair before dinner,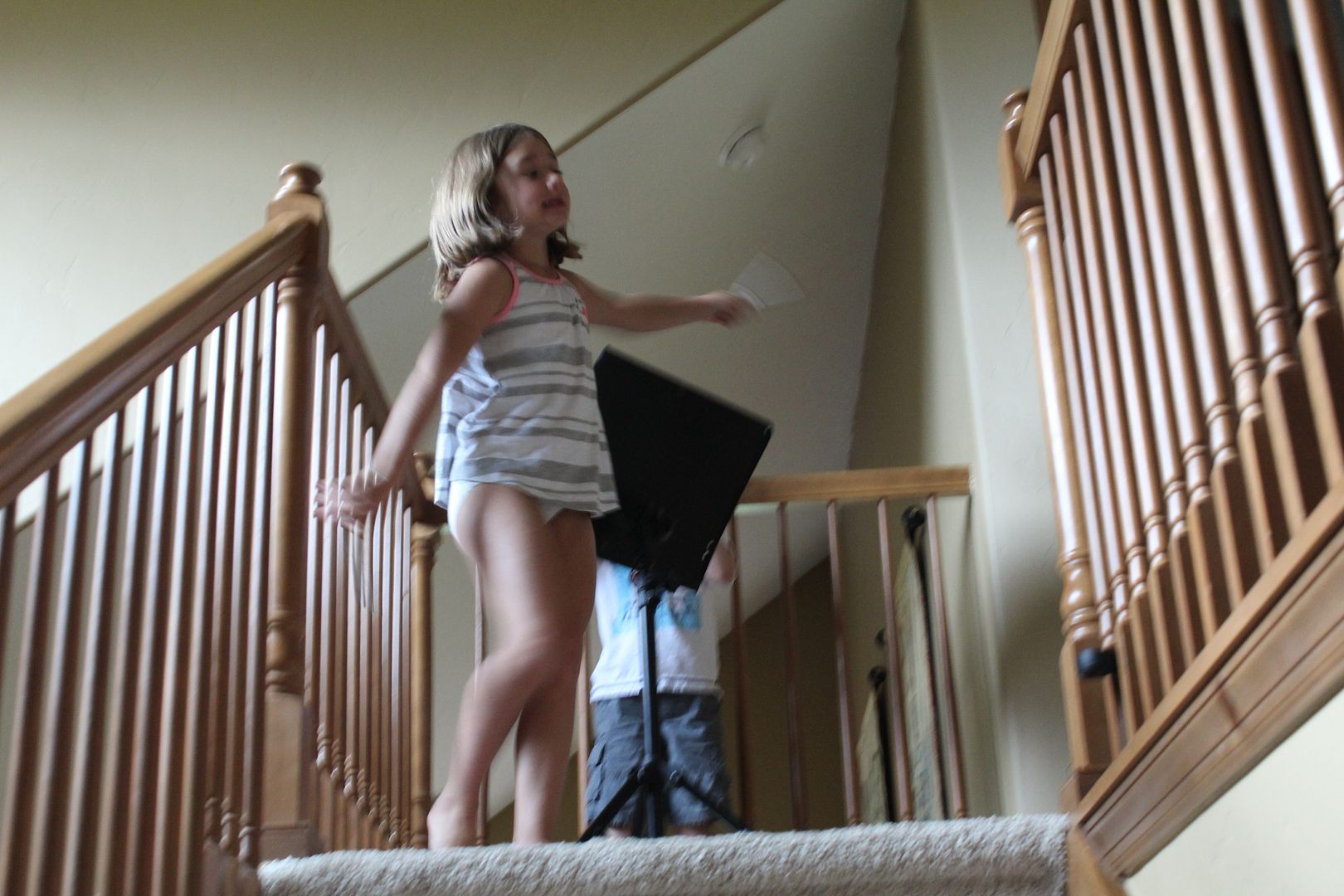 and then both kiddos got in the hot tub with dad as I headed out for a run. Right before I left, I looked up a saw a rainbow.
I then proceed to go for a run. Please note that I could only run a quarter of a mile before I had to stop. At home, I'm back up to an easy 2 and 1/2 miles before I have to stop. This Colorado air is kicking my butt!
But I did see some pretty sights while I was out. Even though I didn't make it far, it was beautiful ending to a beautiful day.