Well that was super fun.
I'm not going to be critical, other than to say, it is not fair to have to be on national TV (probably the only time in my life) 6 months after having a baby. Not fair at all.
I kept looking at the screen thinking, "that's not what I look like." I'm living in a state of denial. But I won't be all negative. I was happy with it overall.
They edited out my cringe moment and decided to show a picture of my sweet family instead of me raising my arms in the air in post baby victory. Thank the Lord for that.
And I'm still not a fan of my hair color. I wish it would have been dark, but oh well.
It was such a fun day that I will only look back on it in fondness.
In the meantime, I'm going to lose 15 pounds and then call them back and ask them if they'd like to have me back so they can see what I normally look like. Ha! Probably not.
But I did just finish dragging the treadmill from the sunroom (full windows and no air conditioning) into the master bedroom (where a TV and air conditioner live together in harmony). That might help. I can't even walk across the sunroom without breaking into an instant sweat let alone run on the treadmill in there.
Plus the wifi signal in there is horrible which means that I can't watch Downton Abbey on my ipad while I'm running in the sunroom. (Not that I have recently run in there, but figuratively speaking, if I had tried to, my ipad would not have streamed my important TV shows.)
I know you don't care, but I just typed it, so there's no use in erasing it.
But I did think that since we were on TV today cooking, that maybe I should start posting of the delicious food we eat around here! Brian is really the cook in the house most days, and he's dang good at it too.
I used to post recipes a lot, and haven't in a long time. What better to start with than the delicious (even though it lost) Grilled Orange Chicken I made on the show?!
Here we go:
ingredients for the marinade
1/2 cup Extra Virgin Olive Oil
1 Orange (zest and juice)
2 Garlic cloves (smashed)
Pinch of Cayenne Pepper
Salt and freshly cracked Black Pepper to taste
4 Chicken Breasts (boneless; skinless)
For the Chicken:
Whisk together the marinade ingredients (listed above) in a rimmed baking dish. Add the chicken and turn to coat. Allow chicken to marinate for up to 30 mins at room temperature.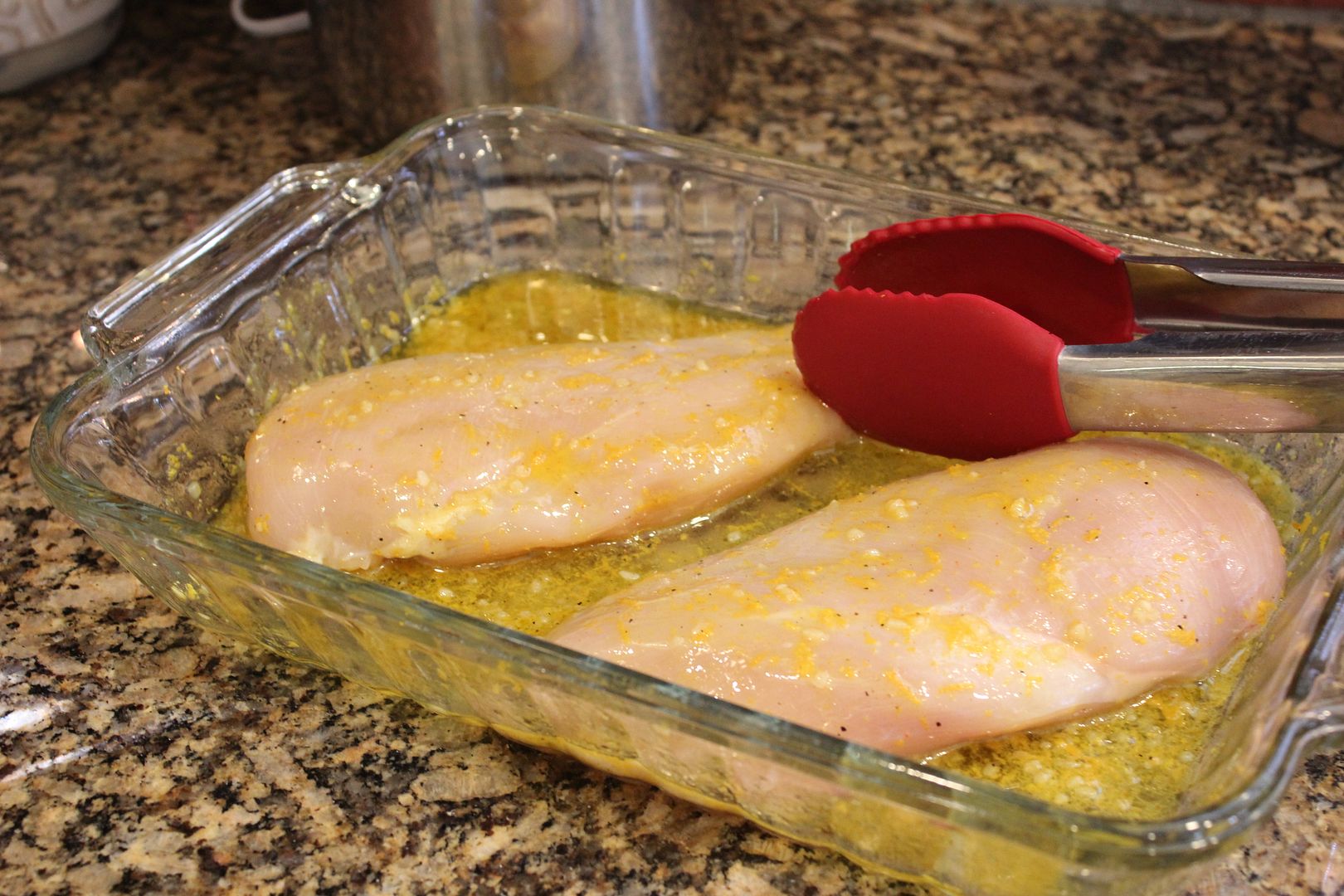 instructions
Meanwhile, preheat the grill to medium-high. Remove the chicken from the marinade and place on the grill. Cook for 3 to 4 minutes on the first side then flip and continue to cook for 3 to 4 more minutes. Chicken should register 160 degrees on a instant read thermometer when cooked. Remove from grill and serve with Orange and Romaine Salad
ingredients for the salad
2 Oranges (segmented; reserve 1/2 orange to juice)
2 tablespoons Dijon Mustard
1 teaspoon fresh Oregano leaves
2 tablespoons Honey
1/2 cup Extra Virgin Olive Oil
Pinch of Cayenne Pepper
Salt and Pepper to taste
1 Head of Romaine (chopped)
1/2 Red Onion (slivered)
instructions
For the Salad:
In a large bowl, whisk together the orange juice, Dijon, oregano, honey and olive oil. Season with cayenne, salt and pepper. Toss together the remaining ingredients with the dressing.
Helpful Tips:
1. Depending on how much heat you like, use as much or as little cayenne pepper in the marinade and the salad dressing.
2. Don't marinate chicken for more than 30 minutes or the citrus from the orange juice will start to break it down.
3. Try using pineapple in the salad instead of orange.
And that's it folks! That's how you make my Grilled Orange Chicken Salad! Enjoy!
You can find a printer friendly version of this recipe by clicking here. You can also check out the episode online by going to thechew.com.