Well this is post # 2 of 2 all about Christmas Traditions. It was fun reading through all your family traditions and deciding which ones we wanted to make a part of our family Christmas time. Enjoy browsing.
Operation Christmas Child
Operation Christmas Child is really cool. You fill a shoe box with small toys or hygiene items for children overseas and donate $7 to ship it. I took my two year old with me to the dollar store section at Target and Dollar Tree and we had fun picking out items to put in the box for another little girl or boy http://www.samaritanspurse.org/index.php/OCC/.
We've started making a point to make sure each kid buys for an needy child (through our church
or an angel tree). I think it's so important now that they can understand not everyone is as blessed
as they are and it's important to bless others.
Paper Chains
Swedish Traditions
Christmas Lights
Every year, the week before Christmas we get in the car and go look at Christmas lights for the evening
.
We get hot chocolate and drive around looking at Christmas lights ;)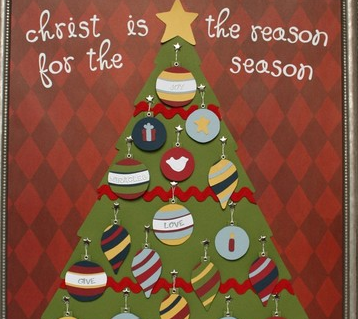 My husband and I started buying ornaments everywhere we went. If we went to a winery or ball game,
for example, we purchased an ornament. When we put up the tree, we can remember all the fun adventures!
Grandpa's Walnut Ornaments
Every year my Grandpa would hollow out walnut shells and put different amounts of money in each and glue them
back together with a ribbon attached. He would hang one in the tree for each grandchild. It was fun cracking them
open to see who had the biggest amount. It's bitter sweet because the one with the highest dollar amount also had
clean up duty after Christmas dinner! Loved it. (He knew we would have done it for free.)
Stocking Fun
We each got five Lottery tickets in the stocking and an o
range in the toe of the stocking.
"Something to eat,
Something to read,
Something to play with,
and Something they need."
.....day 132 of a year of writing.....